You Can Always Ask for Help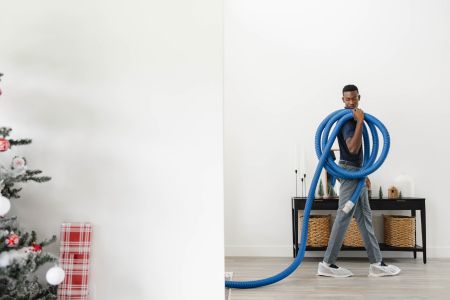 Scheduling your post-holiday carpet cleaning is another vital step in returning your home to its former self. As fun as the holidays are, they can wreak havoc on your floors, countertops, and upholstery. From crumbs to spots, hiring a professional carpet cleaning service is the best option for getting rid of the messes that follow holiday hosting.
At Zerorez®, we offer a Residue Free® clean. Traditional carpet cleaning employs the use of harsh chemicals, soaps, and detergents that create a crunchy, sticky residue on your flooring, especially your carpet. This residue that gets left behind actually attracts more dirt and grime, making your carpets dirtier faster. Zerorez® has revolutionized carpet cleaning so that you can actually go longer between professional carpet cleanings. We use alkalized water that cleans as powerfully as soaps and detergents while leaving behind no residue®.
Beyond that, Zerorez® uses safe cleaning products, so you don't have to worry about kids, pets, or the environmental impact. Instead of dealing with crunchy, sticky carpets, opt for the process that gives you softer and cleaner surfaces that last.
Post-holiday cleaning can be daunting, but with a little bit of planning and some much-needed help from the experts at Zerorez®, you can make the most of your time and have your home looking its best in no time. With these tips, you'll be well on your way to getting your home back in order after the holidays.